Concrete boom pump is a high-efficiency concrete conveying equipment that integrates driving, pumping and placing. MINLE concrete boom pump truck features high reliability, high economy, high safety and high durability. And the chassis, power, electric control, hydraulic pressure and pumping system are reasonably matched. The boom is flexible and fast, the legs occupy a small space, the whole vehicle is easy to move, flexible, stable and safe. The full automatic controlled hydraulic system and the oil pressure transmission signal makes the operation simpler and more reliable, improves the reversing speed of the swing cylinder, reduces the reversing impact, and at the same time speeds up the reversing action of the large cylinder, which can enrich the cylinder and make the material continuous and uniform discharge.
On Oct. 22th, 2018, a four-member team of one Malaysia construction company came to Tai'an Minle Machine Manufacture Co.,Ltd to inspect concrete boom pump and supporting services. Under the guidance of our sales staff, the investigation team visited the parts workshop, machining area, assembly workshop, supporting workshop and office area.
After communicating with the investigation team, we knew that concrete boom pump was a new product for Sabah market in Malaysia. They had a Nissan truck and needed concrete boom pump to match their truck, like 25m, 30m or 33m. At that time we had 25m concrete boom truck in the factory. They checked the truck and pump, our engineer showed them how to use and explained all the parts of our pump truck and how it working. Their mechanical Engineer and electrical Engineer were very satisfied with our boom pump.
The engineers of MINLE MACHINE had many years of experience in pumping, through discussing with clients, they recommended 30m and 33m concrete boom pump because the building in sabah was small. Their boss approved the plan. Then we discussed the two quotations and after sale service. At last, the boss chosen 33m concrete boom pump without truck and signed the sales contract. When they went back to Malaysia and arranged the deposit to us. And our Malaysia clients anticipate long and pleasant cooperation with MINLE MACHINE and recommend our concrete pump machine in their market.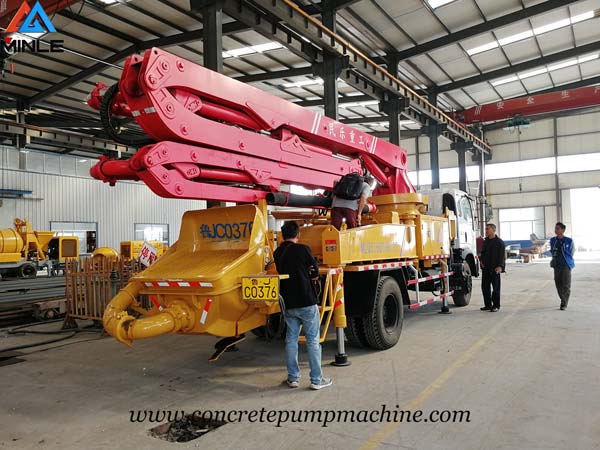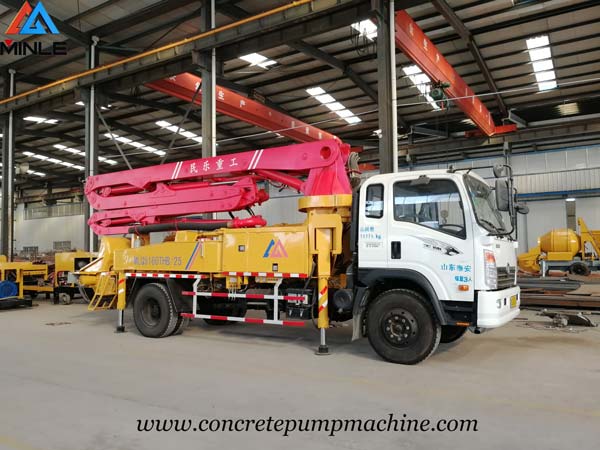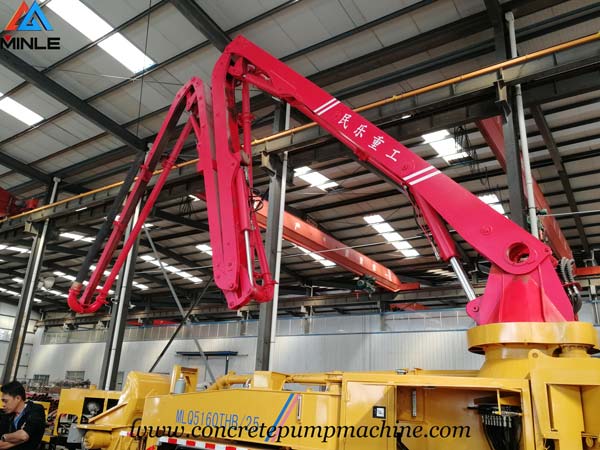 Pumping system of Concrete boom pump parameters
PUMPING SYSTEM

1
The type of distribution valve
Valve
2
Max. outlet pressure(H/L)
10.5
3
Concrete cylinder
230

4

Max. feeding height(MM)

1450

5

Hopper capacity(M3)
0.65
6
Concrete slump
160-220
7
Allowable max diameter of aggregate(MM)
40
8

Lubricating model

Centralized automatic
MINLE Machinery had provided many types of effective and high quality concrete pump machine to over 36 countries. We are designing and manufacturing such concrete pump machines as concrete pump trailer, concrete mixer pump, truck mounted line pump, concrete mixer pump truck, concrete boom pump truck, wet shotcrete machine, etc. we are also providing professional design and fabrication service. OEM and ODM are also available.
If you have any questions or inquiries,  please fill and submit the following form, we will reply as soon as possible.