Concrete pump trailer, also called trailer mounted concrete pump or  concrete trailer pump, is the kind of concrete pump mounted on the moveable trailer to to convey concrete to hard to access flexibly. MINLE brand new generation concrete pump trailer is specially designed and engineered with latest differential pressure induction control technology to keep reliability, simplify and efficiency. Our concrete pump trailer main components such as wear plate, piston, cylinder, discharge port and hopper are made with wear resistant high chrome alloy materials, strict welding and heat treatment processes.  our concrete trailer pump is equipped with advanced hydraulic system which can be powered by diesel engine or electric motor for your selection. It features energy saving, large flow, wider adaptability, high efficiency, good wear resistance and easy to operate, it is widely used for concrete pumping in housing building, elevated road, bridge or tunnel construction projects.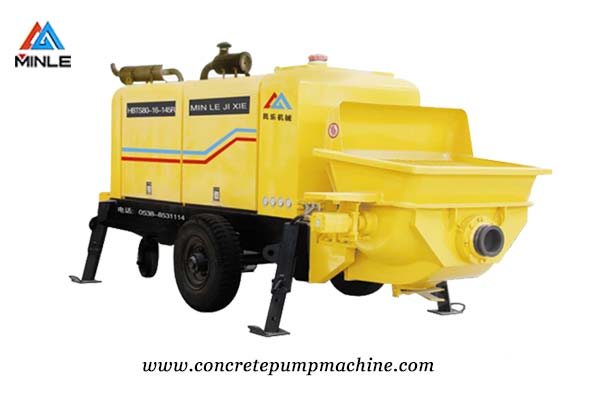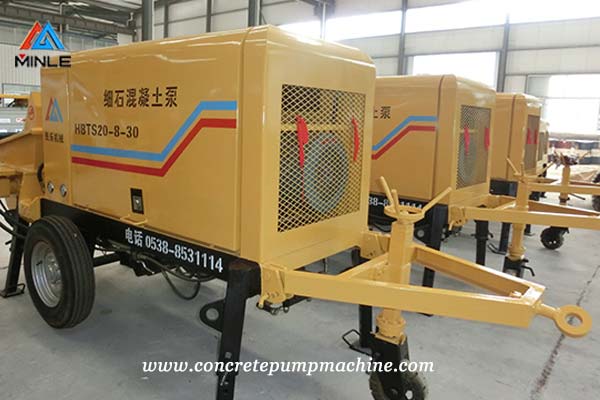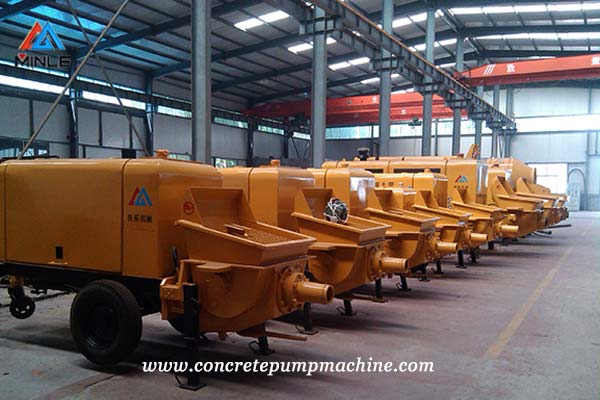 Specifications of Concrete Pump Trailer
No
Item
Unit
Specifications
 HBT60-13-130R
  HBT80-16-145R
  HBT90-16-176R
1
Max Theoretical Concrete Output (High/Low pressure)
m³/h
75/46
 84/50
90/54
2
Max Concrete outlet Pressure (High/Low pressure)
 MPa
 13/7
16/9
16/9
3
 Concrete slump
 mm
 120-230
 120-230
120-230
4
 Aggregate Size
 mm
 ≤40 Pebble / ≤50 Gravel
5
 Diesel Engine Power (Electric Motor Optional)
KW
 130
 145
 176
 6
 Speed
 r/min
 2300
 2300
 2300
 7
 Pumping Cylinder Bore/Stoke
mm
 Φ125/1600
  Φ125/1650
  Φ140/1800
 8
 Concrete Cylinder Bore/Stoke
mm
 Φ200/1600
 Φ200/1650
 Φ200/1800
 9
High – Low Pressure Switch
 Yes
 Yes
 Yes
 10
Hydraulic Fluid Tank Capacity
L
500
500
500
 11
 Hopper Capacity
 m³
 0.8
 0.8
 0.8
 12
 Filling Height
 mm
 1400
 1400
 1400
  13
 Pipe Cleaning Method
 Water Washing
 Water Washing
 Water Washing
 14
Max. Theoretical Vertical Conveying Distance
 m
 270
 270
 350
 15
Max. Theoretical Vertical Conveying Distance
 m
 1200
 1200
 1600
 16
 Overal Dimension
 mm
 6000x2100x2260
 6000x2100x2260
 6000x1200x2260
 17
 Total Weight
 Kg
 6200
 6200
6200
Features of Concrete Pump Trailer
High quality concrete pump trailer equipped with high efficiency concrete pumping system.

Hydraulic double-cylinder piston system, more stable flow, more uniform and stable spraying.

Dual-piston alternately working, manual and automatic hydraulic synchronous lubrication system, longer mortar piston life.

Further optimized pumping flow path to reduce the pumping resistance and the probability of tube block.

Mortar stop pressure relief valve, pumping cleaning ball washing, more secure and faster cleaning operation.

Advanced hydraulic system.

Adaptive gear adjustment technology, smart matching of operating conditions, easy and flexible for any construction occasion.

High pressure large displacement system, pumping displacement is up to 8m

3

/h, outlet pressure can reach 8MPa, pumping height is up to 100m.

Electronically controlled reversing technology, fast and soft commutation, good pumping continuity.

High reliability and wear resistance components, imported brand 

main hydraulic components.

SYMC intelligent controller, high-speed and reliable operation.

Phase sequence automatic detection, more reliable to start.

Wireless remote control makes operation more convenient.

Redundant control design, more reliable control.

Easy to operate.

Flexible to move.

Longer serve life.

Competitive factory price.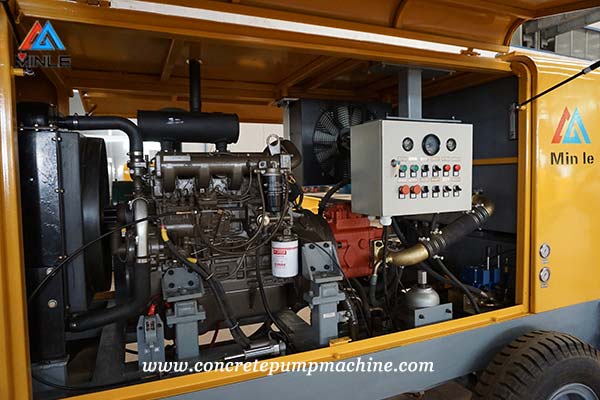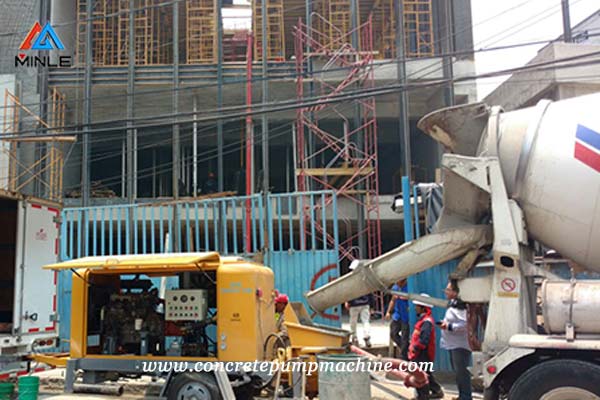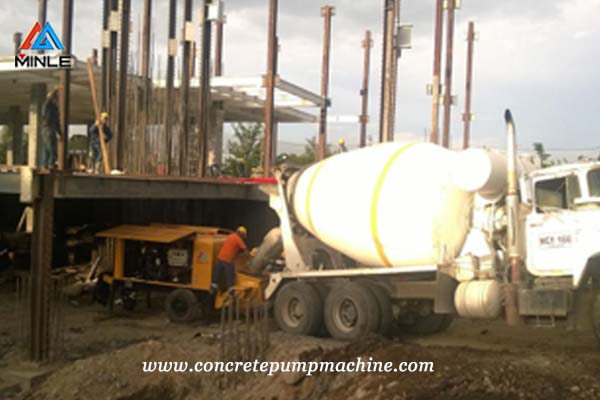 About MINLE Machinery
MINLE Machinery had provided many types of effective and states of the art concrete pump machine to over 36 countries. Our main customers are from Australia,Colombia, Hungary, New Zealand, Poland, Mexico, Ecuador, Brazil, Pakistan, Bangladesh, Thailand, Vietnam, Malaysia, Indonesia, Singapore, Philippines, Sri Lanka, India, UAE, Saudi Arabia, Qatar, Kenya, Ghana, Ethiopia, Somalia, Nigeria, South Africa, Swaziland, Mongolia etc.
MINLE Machinery is the professional concrete pump designer and manufacturer. Our main products include concrete pump trailer, concrete mixer pump, truck mounted line pump, concrete mixer pump truck, concrete boom pump truck, wet shotcrete machine, etc. OEM and ODM are available. If you have any questions or inquiries,  please fill and submit the following form, we will reply as soon as possible.