Concrete Trailer Pump is the concrete pump mounted on the trailer. The flexible concrete trailer pump is easy to move around building site. The workers can pack up the landing legs, and then dragged by the tractor to another building place after the work finished, so it can largely save transport time to make the  the concrete trailer pump work efficiency.
Our customer from Philippines has a building construction company, he likes using the truck mounted boom pump before, but now one set truck mounted boom pump is not enough for their company.  It is not conveniently if the building is very tall, and its cost is very expensive, he asked me for a small truck boom pump fabricated by MINLE Machinery. I told him the smallest one is 24meter, now we have one in stock is 25m, but after I offered him the price, he confused, he don't want to spend cost to buy this boom pump truck, he want to change another portable one.
After few weeks, I contacted him again. He let me give him a best solution for his future building work, I was informed that the aggregate size is 20mm, and the Max. Vertical height is 10 stories.  I recommended our 40m3/h diesel concrete trailer pump for him after consulting our engineers, and I sent him  the concrete trailer pump working video. He signed the contract and paid for the deposit two days later.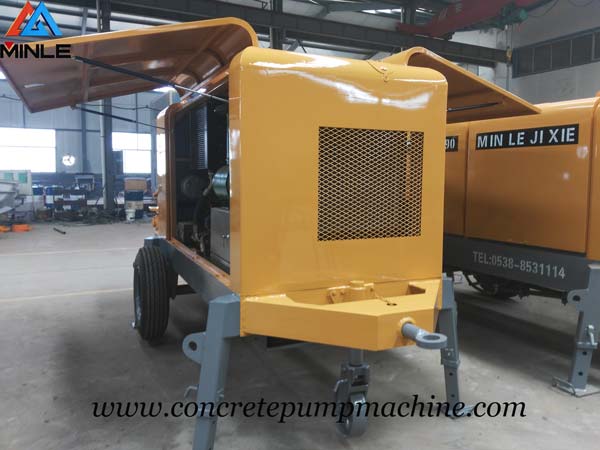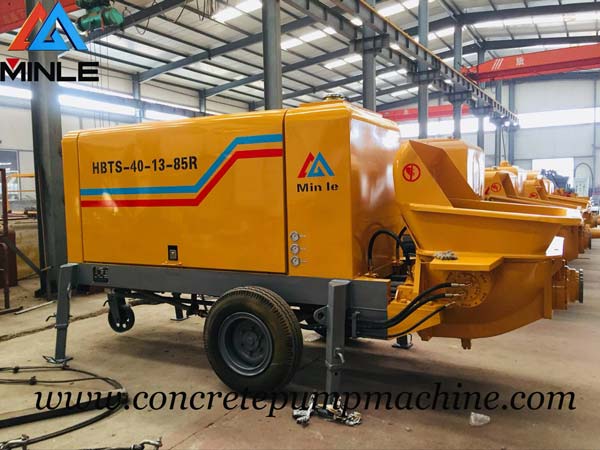 Concrete Trailer Pump Specifications
D

iesel Concrete Trailer Pump

Model – HBTS40-13-85R

Max Theoretical Concrete Output – 40

 

m³/h

Max Concrete outlet Pressure – 13

MPa

Concrete slump -120~230mm

Aggregate Size – 30mm

Diesel engine power –

 

85

Kw

Conveying cylinder diameter – 110/1000mm

Concrete cylinder diameter – 160/1000mm

V

ertical height m

ax conveying distance – 120m

Horizontal distance max conveying distance –

400m

Pipe Cleaning Mode – Water washing

Total Weight – 3800 Kg
MINLE Machinery had provided many types of effective and high quality concrete pump machine to over 36 countries. We are designing and manufacturing such concrete pump machines as concrete pump trailer, concrete mixer pump, truck mounted line pump, concrete mixer pump truck, concrete boom pump truck, wet shotcrete machine, etc. we are also providing professional design and fabrication service. OEM and ODM are also available.