Trailer concrete pump with mixer, is the kind of concrete mixer pump mounted on the moveable trailer to to convey concrete to hard to access flexibly, our concrete trailer pump is equipped with advanced hydraulic system which can be powered by diesel engine or electric motor for your selection. This trailer concrete pump features energy saving, large flow, wider adaptability, high efficiency, good wear resistance and easy to operate, it is widely used for concrete pumping in housing building, elevated road, bridge or tunnel construction projects.
One of our customer from Philippines sent me message about the trailer concrete pump on 10th, Feb, 2019.  At first, he just replied me he needed trailer concrete pump with mixer, concrete delivery and mixing worked together, he told me that the concrete ration was about 1:3:3,  the aggregated size is 40m, I gave him suggestion that he can use small loader to load concrete material, small bottle measurement, one and half bucket stone, one bucket of sand, two bags cement, 50kgs for one cement bags, this ration for concrete is suitable for pump working and delivery concrete.  Our engineer created the draft drawing for the trailer concrete pump with mixer.  I sent him by email, he replies me and he wanted add the batching machine to connect the mixer with pump loading. He asked me how to integrate these machines together, we replied him that we should dig out a hole and make the mixer loading skimmer longer to connect the skimmer, then  the batching machine can transport the stone and cement and sand into the mixer loading together.
Finally, my customer accepted my suggestion and we made the deal for the 40M3/H two shaft trailer concrete pump with mixer, because he thought the drum capacity is not enough for concrete injection .
On 1th, March , 2019, we signed the contract for 8 sets concrete mixer with pump, our customer paid for the deposit.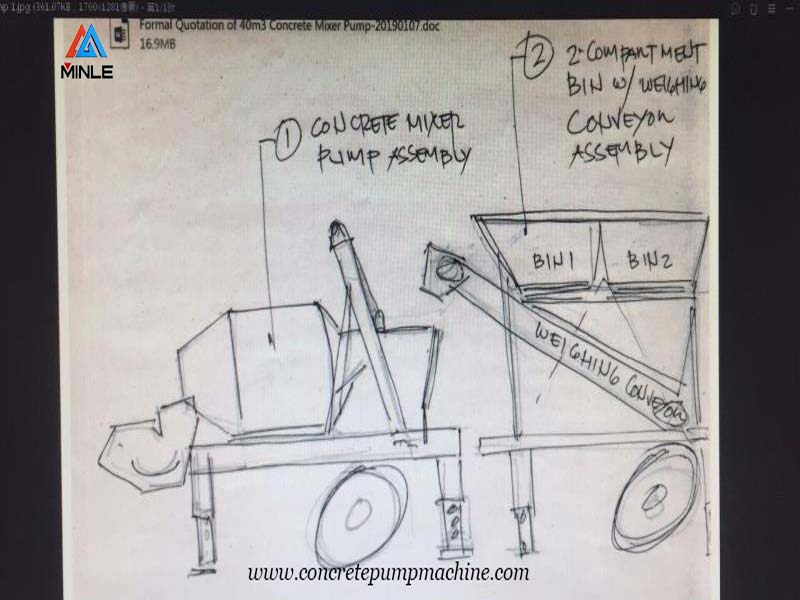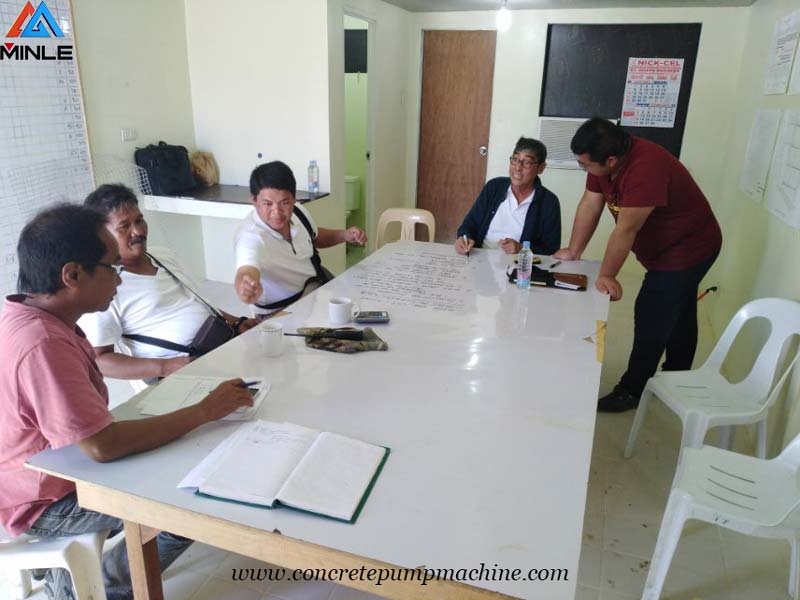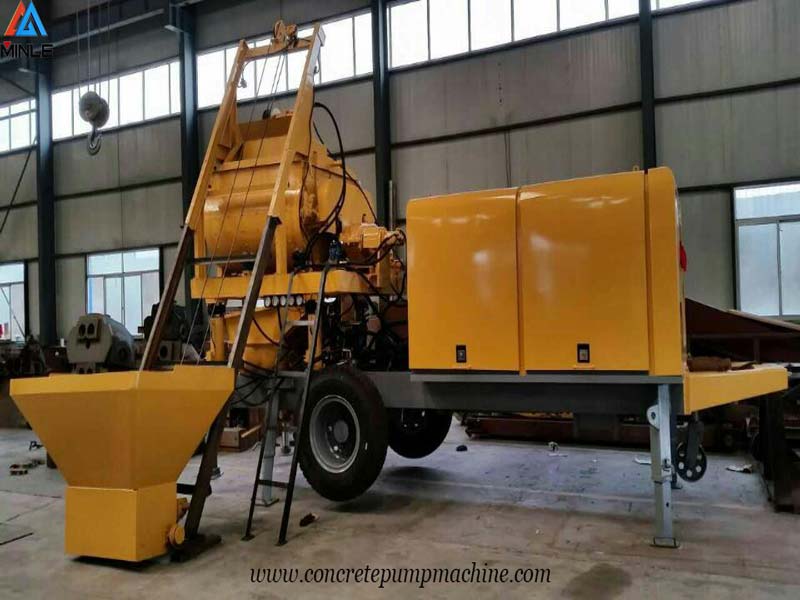 Trailer Concrete Pump with Mixer Specifications:
Item

Unit
QJHBT40-13-110R
Max. Theoretical Concrete Output
m³/ h
 

40

 

Diesel engine power
kw
Cummins 110kw , 6 cylinder , Electric control
Max.concrete pumping pressure
Mpa
13
Distribution valve type
 S Pipe Valve
Concrete cylinder diameter×stroke
mm
200*1100
Pumping Hopper capacity
m3
0.35
Outlet diameter
mm
125
Mixer feeding capacity
    L
750
Mixer discharge capacity
L
500
Max.Theoretical Productivity
M3/h
25
Mixer power
kw
18.5
Production rate
m3/h
10-14m3/h
Lift speed of hopper
M/min
18
Main oil pump
Kawasaki
 
Concrete slump range
mm
120-230
Rotate speed
r/min
2300
Circuit type
              Open circuit
Pumping system pressure
Mpa
33
Mixing system pressure
Mpa
14
Hydraulic valve
                Boshen
Max. Teoretical Conveying Distance
(Horizontal /Vertical)
m
500/150
Hopper Capacity/ Filling Height
m³/mm
0.6/1500
Maximum aggregate size
mm
Pebble≤50 Gravel≤40
Cleaning mode
Water washing
Dimension
mm
6000×2150×3450
Total Weight (including oil)
kg
8000
Maximum aggregate particles
mm
Pebble≤50 Gravel≤40
Hoisting motor power
kw
5.5
Water pump motor
kw
0.75
Water pump motor
Hydraulic Water Driven Pump
Maximum towing speed
Km/h
10
 
Axle/wheels
pcs
2/4
About MINLE Machinery
MINLE Machinery had provided many types of effective and high quality concrete pump machine to over 36 countries. We are designing and manufacturing such concrete pump machines as concrete pump trailer, concrete mixer pump, truck mounted line pump, concrete mixer pump truck, concrete boom pump truck, wet shotcrete machine, etc. we are also providing professional design and fabrication service. OEM and ODM are also available.
If you have any questions or inquiries,  please fill and submit the following form, we will reply as soon as possible.