Trailer concrete pump, also called trailer mounted concrete pump, is a construction equipment that relies on pressure to transport concrete through pipes. Trailer concrete pump is equipped with special pipes which can continuously convey concrete along the pipeline horizontally and vertically. Trailer concrete pump is an ideal existing concrete conveying equipment. Concrete Pump combines ready-mixed concrete production and pumping construction, using concrete mixing truck as intermediate operation,  achieve continuous pumping and pouring of concrete. MINLE trailer concrete pump can use in concrete conveying work for large concrete projects.
MINLE Trailer concrete pump advantages
Streamlined design, novel and beautiful, reasonable layout, compact structure, greatly improved rigidity of the hood.
The oil pump and valve group adopt world famous brands to ensure high reliability of the pump.
The diesel engine adopts a high-end brand with reliable performance and strong power.
The S tube is made of high-alloy steel. The three-dimensional optimized design of the arc hopper has the characteristics of large volume and no accumulation.
The large-diameter, long-stroke main cylinder ensures the highest construction distance and farther distance.
Wear parts such as glasses plates and cutting rings have long service life and long service life.
The outstanding features of the concrete pump electronic control system: advanced technology, simple, and high reliability. All electrical components are imported.
We got enquiry of trailer concrete pump from Indonesia client on March, 2018. Our Indonesia client had two construction requirements for concrete pump, diesel engine and conveying concrete 200m vertically. That means the trailer concrete pump can delivery concrete up to 60 floors. Then we held a meeting with several engineers to discuss and select the suitable concrete pump for them. For the height up to 200m, it needed high pressure to push concrete. So we recommended our 80 cubic meter per hour diesel trailer concrete pump with DEUTZ diesel engine and REXROTH hydraulic pump for them. And the concrete pumping pressure should be 18 MPa. They checked our quotation and decided to visit MINLE MACHINE. On April, 2018, our Indonesia customer came to check our factory and machine together with their partner. After checking our workshop and concrete pump products in the factory, they were very satisfied with our strong manufacturing ability. They wanted better diesel engine besides DEUTZ and they also needed urgent delivery. We discussed with our boss and told them CUMMINS diesel engine was also very good but the price was a little high. In fact DEUTZ was popular in south Asia, like Philippines and Indonesia for quality and service were both good. The Indonesia client finally chosen DEUTZ diesel engine. After discussed with producing department, we agreed to arrange delivery within 10 days after got the deposit. Both clients and their partner were very pleased for our first cooperation and they arranged prepayment when they were back to Indonesia. We arranged delivery of trailer concrete pump on time.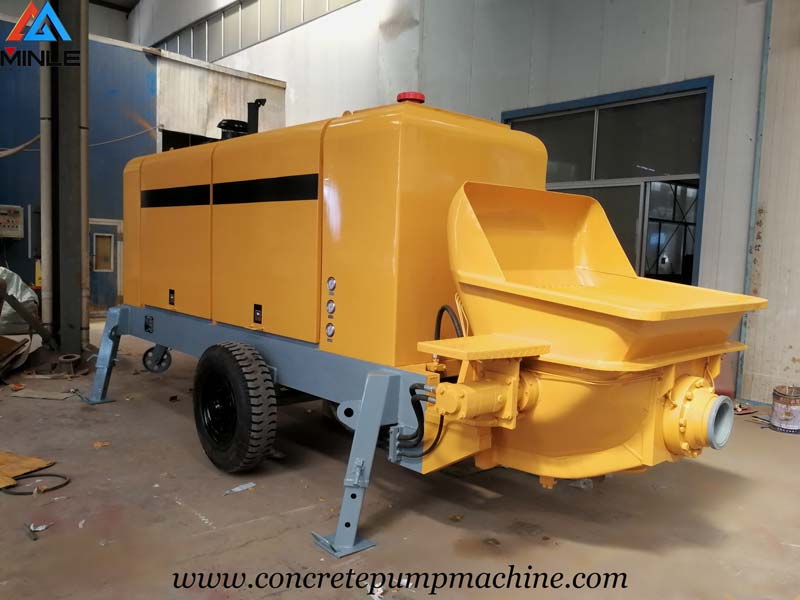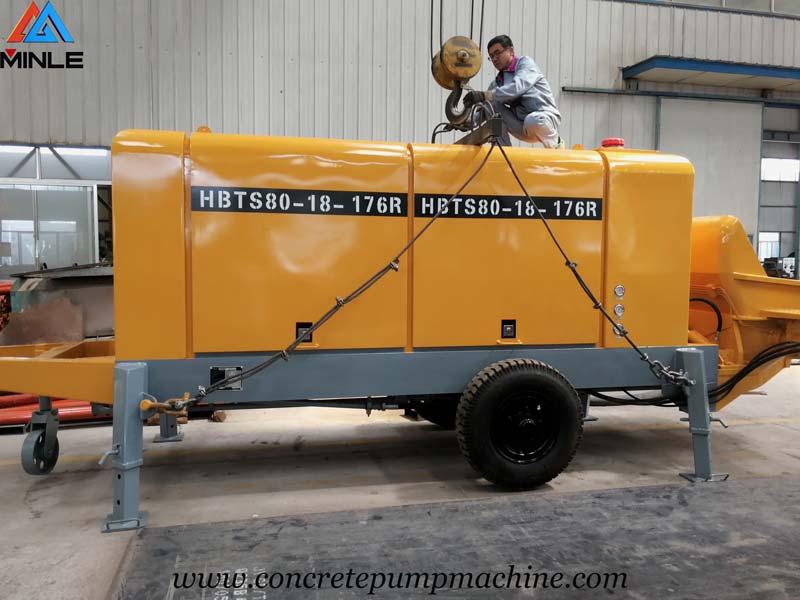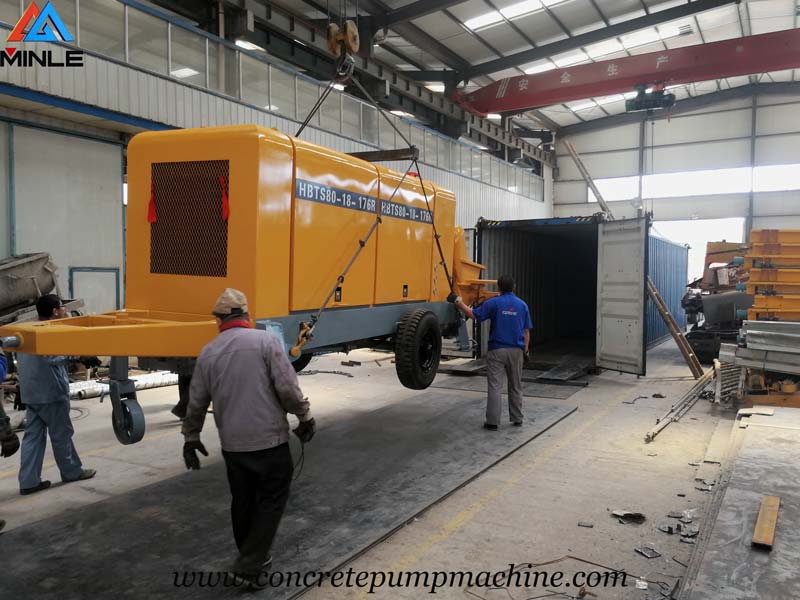 Trailer Concrete Pump Specifications:
Names of parameters
Unit
HBTS80-18-176R

Performance of the whole machine

The maximum of theoretical concrete conveying capacity
m3/h
84/54
Conveying pressure of concrete
MPa
18
Distributing valve type
S pipe valve
Max Theoretical Conveying Distance (vertical Height/Horizontal Distance)
m
350/1600
Specification of concrete cylinder: cylinder bore´stroke
mm
f200´1600
Hopper capacity
L
800
Diameter of discharge outlet
mm
f180
Feeding height
mm
1400

Power system

Diesel model
DEUTZ
Rated power
KW
176
Permissible max. RPM
r/min
2300
Min. RPM
r/min
600

Hydraulic system

Style of oil circuit
Open loop
Oil pressure of pumping system (Set value of safety valve)
MPa
34
Oil pressure of distribution system (Set value of safety valve)
MPa
23
Oil pressure of mixing system (Set value of safety valve)
MPa
14
Max. Mixing RPM
r/min
42
Volume of hydraulic oil tank
L
500

        Other parameters

Volume of fuel tank
L
240
Permissible Max. aggregate size
mm
Pebble 50, broken stone 40
Inner diameter of concrete delivery pipe
mm
f125/f150
Overall dimension

(L´W´H)

mm
6000´2100´2260
Total mass
kg
6300
The trailer concrete pump machine has been running very well and he plans to buy another three concrete pumps for their other project.
About MINLE Machinery
MINLE Machinery had provided many types of effective and high quality concrete pump machine to over 36 countries. We are designing and manufacturing such concrete pump machines as concrete pump trailer, concrete mixer pump, truck mounted line pump, concrete mixer pump truck, concrete boom pump truck, wet shotcrete machine, etc. we are also providing professional design and fabrication service. OEM and ODM are also available.
If you have any questions or inquiries,  please fill and submit the following form, we will reply as soon as possible.