Trailer concrete mobile pump is also called trailer concrete pump, it is the flexible concrete pump mounted on the moveable trailer to to convey concrete to hard to access place. In September 2018, we received an inquiry from Philippine customer about the trailer concrete mobile pump, The customer told us that he had five house projects under construction and another five houses waiting for the government's approval. Now he wanted to purchase a trailer concrete mobile pump to improve efficiency and finish the current work as soon as possible, then to start the next project.
We didn't offer the price immediately after receiving customer's inquiry, because the Client didn't tell me the specific requirements for trailer concrete mobile pump. Because we didn't understand the customer requirements in detail, and then we asked the customer for more detailed information such as the diesel engine trailer concrete mobile pump or an electric driven by electric motor, and the size of the aggregate. We can not recommend you a very suitable trailer concrete pump.
On the third day we received customer's reply, the customer said he needed a small trailer concrete mobile pump, but not too small, the weight was not over 3.5 tons, the transportation may be convenient, the aggregate size 25 mm, as for electric motor or diesel engine let us recommend him, and the customer asked to the workshop of the installation, spraying, and plant appearance pictures sent to him, so that he can better understand our company.
After receiving customer reply, we immediately went to the workshop took pictures, selected a few more clear pictures then sent them to the customer, and enclosed with the relevant certifications, our factory business license, ISO certificate, etc., We had exported trailer concrete mobile pump to over 26 countries. We told him many foreign clients like diesel trailer concrete mobile pump, it is more convenient than electric concrete pump trailer. We recommended him to use diesel engine, of course, he can also use the electric motor if electricity is very convenient for him. The price of the motor trailer concrete mobile pump is cheaper, if not more than 3.5 tons weight, aggregate size 25 mm, our 20 m3 / h diesel trailer concrete mobile pump is more suitable for customers to use.
We haven't received any reply from the customer after replying to his email, and we have followed up with him for many times, but there was no message. I felt that maybe the customer did not need our trailer concrete mobile pump.We thought that this work as an exercise in negotiating with a client for my next deal, and then focus on other clients, but after 2 months, at the end of Nov. We received email from that client, he told me, hi Michael, I had been busy with project bidding two months ago, update me Quotation again. We wanted to order now, but sent me the hydraulic system before we arranged the deposit, we carried out immediately, after two weeks, we received client's payment.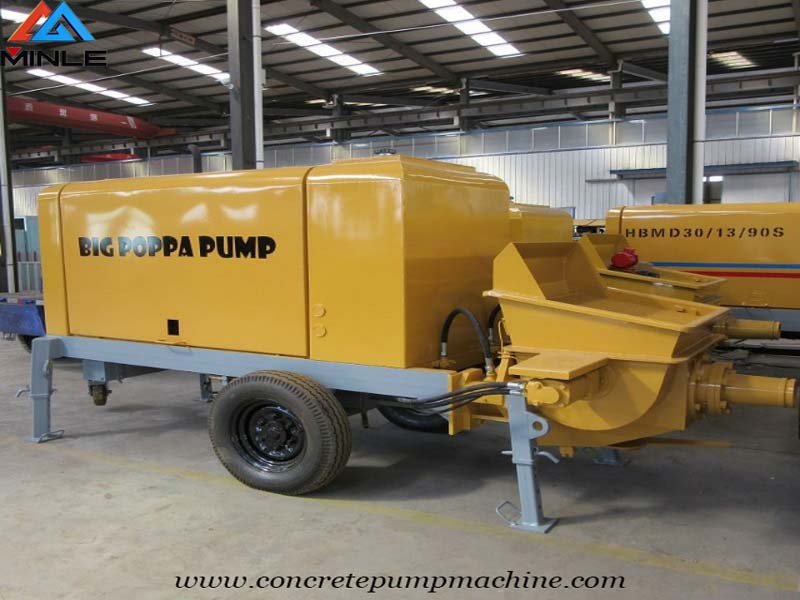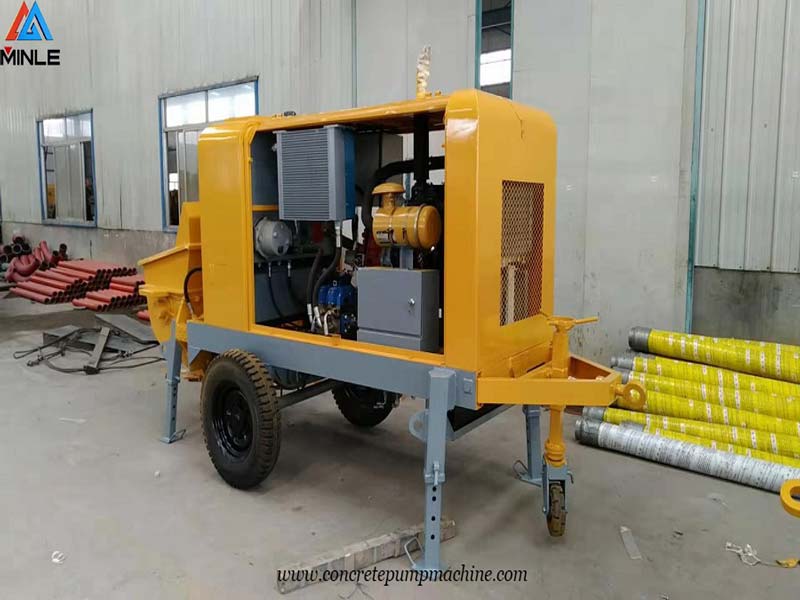 Trailer Concrete Mobile Pump Specifications:
Item (Trailer Concrete Mobile pump)
Unit
HBTS20-8-39R
Max. Theoretical Concrete Output
m³/h

20

Max. Concrete Pumping Pressure
Mpa
8
Distribution valve
S Valve
Conveying tube inner Dim
mm
100A*70A
Rated speed
r/min
2300
Max. Theoretical Conveying Distance
(Horizontal /Vertical)
m
400/100
Main oil pump
Kawasaki
Concrete Cylinder Diameter
mm
140*750
Hopper Capacity/ Filling Height
m³/mm
0.3/1100
Maximum aggregate size
mm
≦30
Concrete slump range
mm
120-230
 power
kw
39
Oil tank capacity
L
200
Dimension
mm
5000*1500*1650
Total Weight (including oil)
kg
2500
About MINLE Machinery
MINLE Machinery had provided many types of effective and high quality concrete pump machine to over 36 countries. We are designing and manufacturing such concrete pump machines as concrete pump trailer, concrete mixer pump, truck mounted line pump, concrete mixer pump truck, concrete boom pump truck, wet shotcrete machine, etc. we are also providing professional design and fabrication service. OEM and ODM are also available.
If you have any questions or inquiries,  please fill and submit the following form, we will reply as soon as possible.