Small diesel concrete pump, also called small diesel concrete pump trailer, is the hot sale concrete pump machine whose hydraulic pump is driven by the diesel engine during operation. The hydraulic pump drives the hydraulic cylinder to push the piston in the conveying cylinder to perform the "one push and one suction" alternate movement, then sucking the concrete from the hopper into the conveying cylinder and pumping it out. The process is controlled by a hydraulic valve that is switched by a oscillating cylinder in the distribution system. Since the whole process of MINLE small diesel concrete pump is controlled by remote control, one person can complete all operations, so the mall diesel concrete pump is favored by the majority of construction parties!
On October,2017, our Colombia client came to visit our booth in Canton Fair, he was very interested in our small diesel concrete pump and asked the price of 20, 30, 40 cubic meters per hour concrete pump. In the evening, we talked a lot about our concrete pump machine, and invited local customers in Colombia to introduce the work of MINLE concrete pumps in Colombia. We invited them to go to the local site to see the operation of our small diesel concrete pump. When they heard that MINLE concrete pump worked 10,000 cubic meters without any problems, the customer expressed surprise. During the Canton Fair, customers visited our booth for 3 times and expressed their great hope to cooperate with our factory. They were a large engineering company in Colombia, and they had more than a dozen concrete mixer trucks, indicating that they had a large demand for concrete pump.
After returning to Colombia, the customer said that the local economic situation was not good, delaying the purchase plan. On October 2018, the customer said he wanted to buy concrete pump. After the Canton Fair, they came to the factory to check our concrete pump trailer, and expressed great satisfaction. And signed a contract for two 40 cubic meters per hour small diesel concrete pump, said that they first checked the quality of concrete pump and then purchase in large quantities.
At the end of January,2019, we exported 2 sets small diesel concrete pump to Colombia and anticipate more cooperation with our Colombia clients in the near future.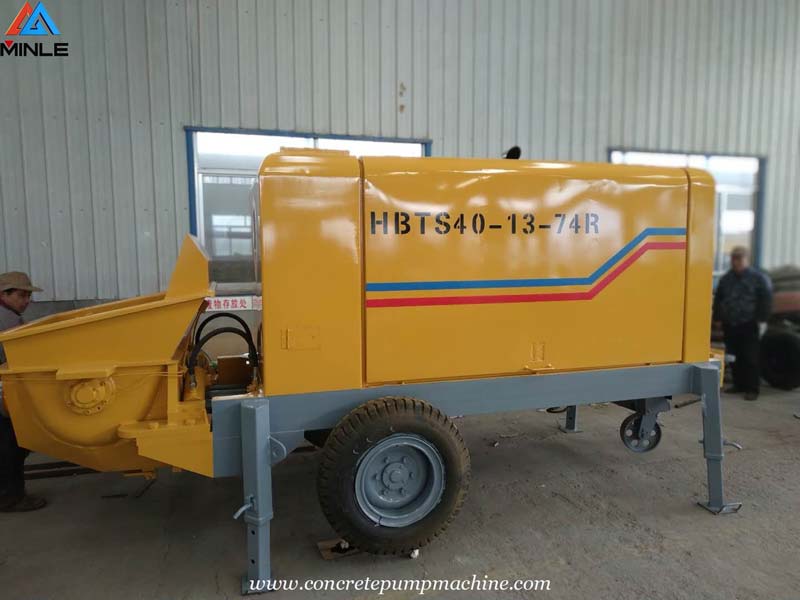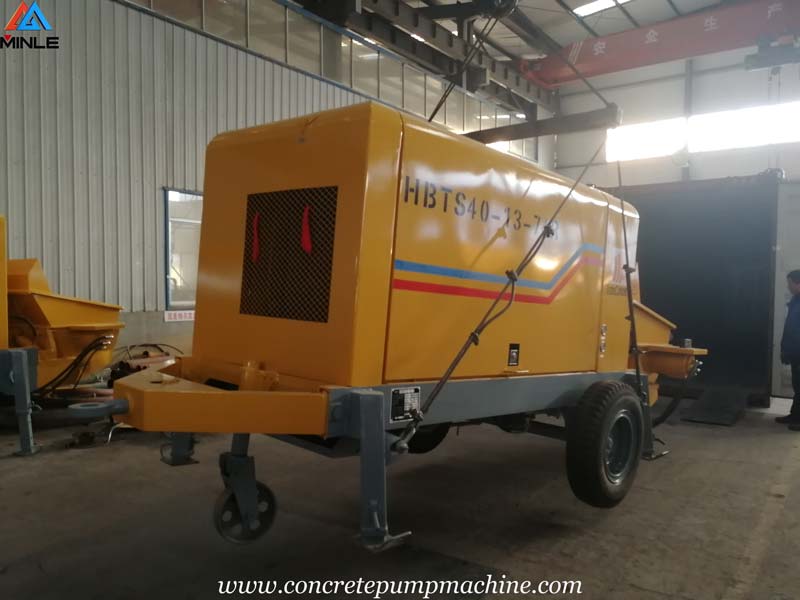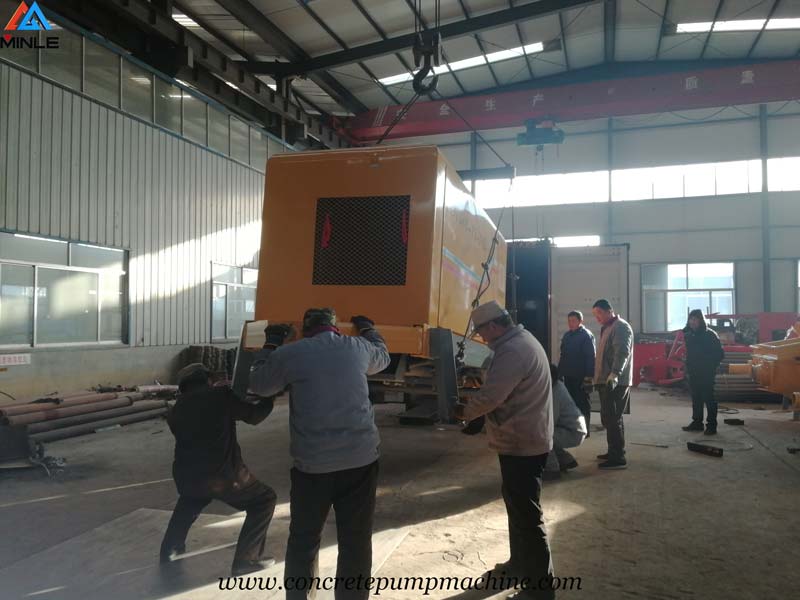 Small Diesel Concrete Pump Specifications:
| | |
| --- | --- |
| Item | HBTS40-13-74R |
| Max Theoretical Concrete Output  (m³/h) | 40 |
| Max Concrete outlet Pressure  (Mpa) | 13 |
| Concrete slump  (mm) | 120-230 |
| Aggregate Size  (mm) |  gravel≤40 |
| Power  (KW) | Diesel motor 74 |
| Speed  (r/min) | 2200 |
| Conveying Cylinder Diameter  (mm) | ¢100/1000 |
| Concrete Cylinder Diameter  (mm) | ¢180/1000 |
| Hopper Capacity  (m³) | 0.35 |
| Fuel Tank Capacity  (L) | 250 |
| Filling Height  (mm) | 1250 |
| Max theoretical Conveying Distance (vertical Height/Horizontal Distance)  (m) | 150/500 |
| Pipe Cleaning Mode | Washing |
| Overall Dimension  (mm) | 5000×2100×2200 |
| Total Weight  (kg) | 4500 |
About MINLE Machinery
MINLE Machinery had provided many types of effective and high quality concrete pump machine to over 36 countries. We are designing and manufacturing such concrete pump machines as concrete pump trailer, concrete mixer pump, truck mounted line pump, concrete mixer pump truck, concrete boom pump truck, wet shotcrete machine, etc. we are also providing professional design and fabrication service. OEM and ODM are also available.
If you have any questions or inquiries,  please fill and submit the following form, we will reply as soon as possible.