Portable trailer concrete pump is mainly used for conveying and pouring work in concrete construction. With the rise of modern industry, the construction method of concrete-based materials has become one of the main structures of construction, occupying a large proportion in various construction projects, making the development of concrete machinery enduring. Portable trailer concrete pump is one of various concrete machines. It is widely used in the construction of railways, highways, tunnels, rural construction, water conservancy projects etc.
Last month we contacted a Philippine customer who described to us the construction environment and the difficulties in accessing electricity. We recommended him to our diesel-powered portable trailer concrete pump, which can meet the demand of the field and other unpowered environment. Its main features are as follows:
Electronic control system of portable concrete pump trailer .
1. Fully enclosed electrical control box, protection control device can work under harsh conditions.
The main electrical components used are Schneider of France and Mitsubishi of Japan. Panasonic  and other world-renowned brands.
2. The PLC can be programmed, the program controller simplifies the circuit, the reliability and life are significantly improved, and the fault display function is provided for easy troubleshooting.
3. Wired remote control, safe and convenient to operate.
Hydraulic system of portable trailer concrete pump.
1. The squat type side door, operation, maintenance and maintenance are very convenient. The side door is made by a special process to effectively reduce the noise of the work.
2. Adopt double pump and double circuit open hydraulic system. The main oil pump and so on are all imported from Germany Rexroth and Japan Kawasaki company. The system is simple, the component life is long, and the reliability is high.
3. The pumping oil circuit adopts non-contact automatic commutation and delay phase control, which avoids the commutation impact, and the commutation is accurate, stable and reliable. The hydraulic system is equipped with a safety overflow protection and an overpressure automatic shut-off device to ensure multi-stage reliable protection of the main pump.
4. Adopting suction filter technology to avoid foreign matter entering the hydraulic circuit, and greatly improving the reliability of the system and greatly extending the service life of the system components.
5. Independent forced air cooling to ensure that the oil temperature is below 60 °C.
Accessories:
1. Adopt advanced S-tube valve structure, floating seal automatically compensates for wear gap, good sealing effect
2. The glasses plate and cutting ring are made of high-hard and wear-resistant alloy material for longer life.
According to the customer's demand – about 40mm stone, the pumping distance is not less than 600m, finally our Philippine customer decided to purchase the diesel portable concrete pump trailer HBTS60-13-130R.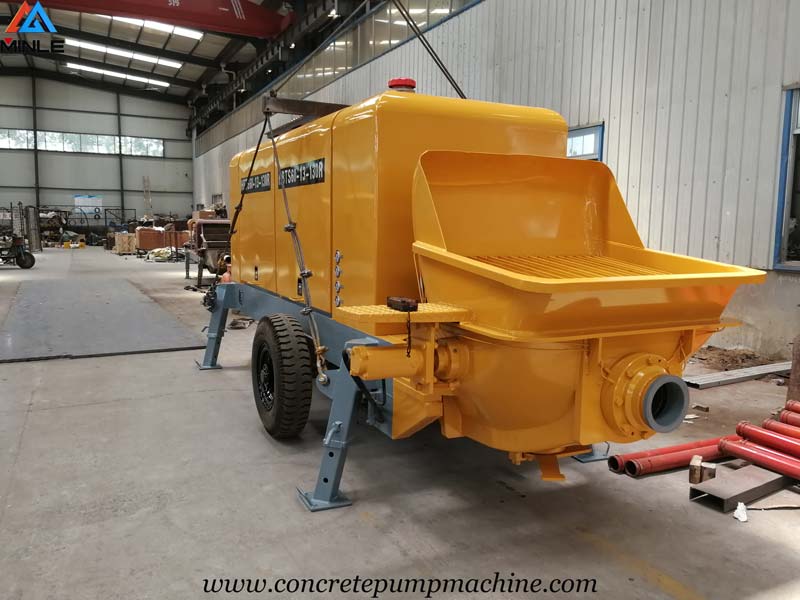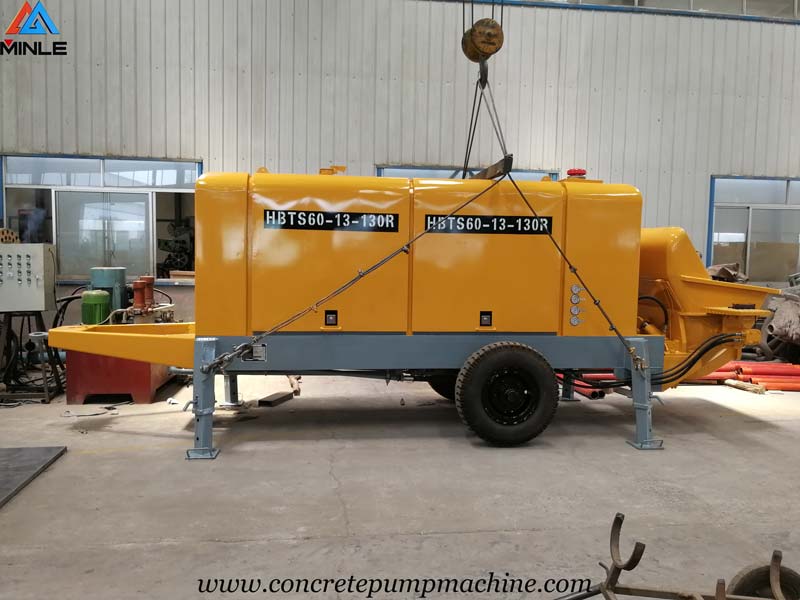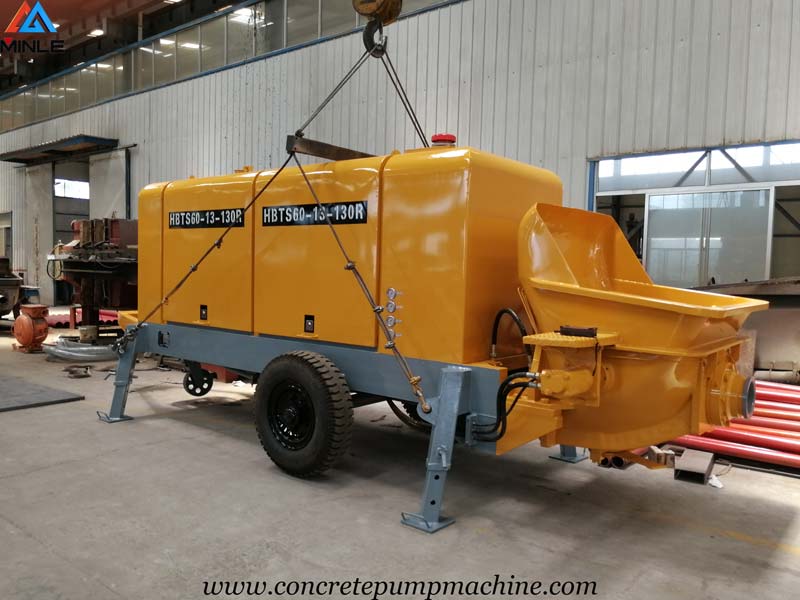 Portable Trailer Concrete Pump Specifications:
No
Item
Unit
Specifications
 HBT60-13-130R
1
Max Theoretical Concrete Output (High/Low pressure)
m³/h
75/46
2
Max Concrete outlet Pressure (High/Low pressure)
 MPa
 13/7
3
 Concrete slump
 mm
 120-230
4
 Aggregate Size
 mm
 ≤40 Pebble / ≤50 Gravel
5
 Diesel Engine Power (Electric Motor Optional)
KW
 130
 6
 Speed
 r/min
 2300
 7
 Pumping Cylinder Bore/Stoke
mm
 Φ125/1600
 8
 Concrete Cylinder Bore/Stoke
mm
 Φ200/1600
 9
High – Low Pressure Switch
 Yes
 10
Hydraulic Fluid Tank Capacity
L
500
 11
 Hopper Capacity
 m³
 0.8
 12
 Filling Height
 mm
 1400
  13
 Pipe Cleaning Method
 Water Washing
 14
Max. Theoretical Vertical Conveying Distance
 m
 270
 15
Max. Theoretical Vertical Conveying Distance
 m
 1200
 16
 Overal Dimension
 mm
 6000x2100x2260
 17
 Total Weight
 Kg
 6200
About MINLE Machinery
MINLE Machinery had provided many types of effective and high quality concrete pump machine to over 36 countries. We are designing and manufacturing such concrete pump machines as concrete pump trailer, concrete mixer pump, truck mounted line pump, concrete mixer pump truck, concrete boom pump truck, wet shotcrete machine, etc. we are also providing professional design and fabrication service. OEM and ODM are also available.
If you have any questions or inquiries,  please fill and submit the following form, we will reply as soon as possible.