Mobile concrete mixer with pump, also called mobile concrete mixer pump, combines concrete mixer and concrete pump in the single concrete pump machine for high mobility and flexible operation. It is the ideal equipment for mixing and conveying concrete to designated location in the simple and cost efficient way especially in small construction sites such as house building, highway, bridge, dam and slope protection project.
The mobile concrete mixer with pump can be assmebled with either electric motor or diesel engine. It means that we can select one for the actual needs of the site. It greatly reduces the labor intensity and costs but increases the work efficiency.
We received a inquiry for mobile concrete mixer with pump last month from our Ghana customer,  their requirement is as below.
The output capacity of concrete mixer with pump is 30-40m3

/h.

It should pump 80m vertically.
The electricity is very unstable in their country,  so he wanted to buy a mobile concrete mixer pump with both electric motor and diesel engine.
Because the road at the construction site is rugged, so he hoped the mobile concrete mixer with pump could easy move and turn around.
To meet our Ghana customer's requirements, our engineer designed the mobile concrete mixer with pump in this way.
Firstly, our engineer added two engines in the machine, when the electricity in our Ghana customer's site is stable, he can start the mobile concrete mixer with pump by electric motor, when the electricity is unstable or it hasn't electricity in his site, he can start the machine by diesel engine.
In view of the situation of the road, our engineer added the leaf springs and steering wheel under the machine including four hydraulic legs. This way, our customer can move the mobile concrete mixer with pump on the bumpy road safely.
After received the designing solution from our engineer, we sent them to our Ghana customer soon. Our client were very satisfied with our solution and told us start the production at once.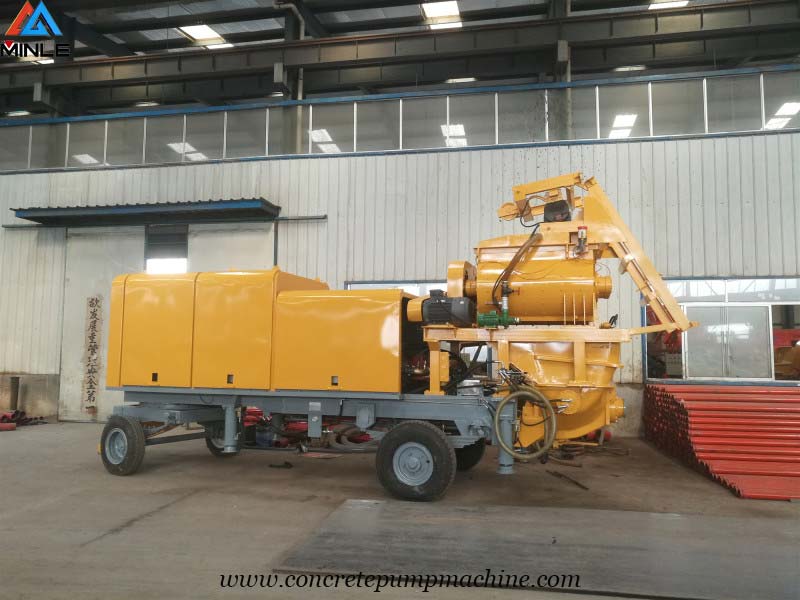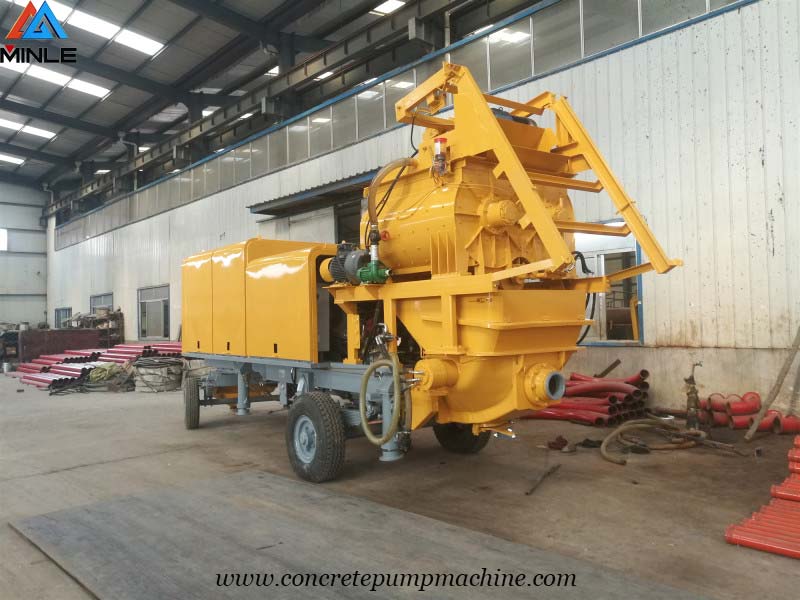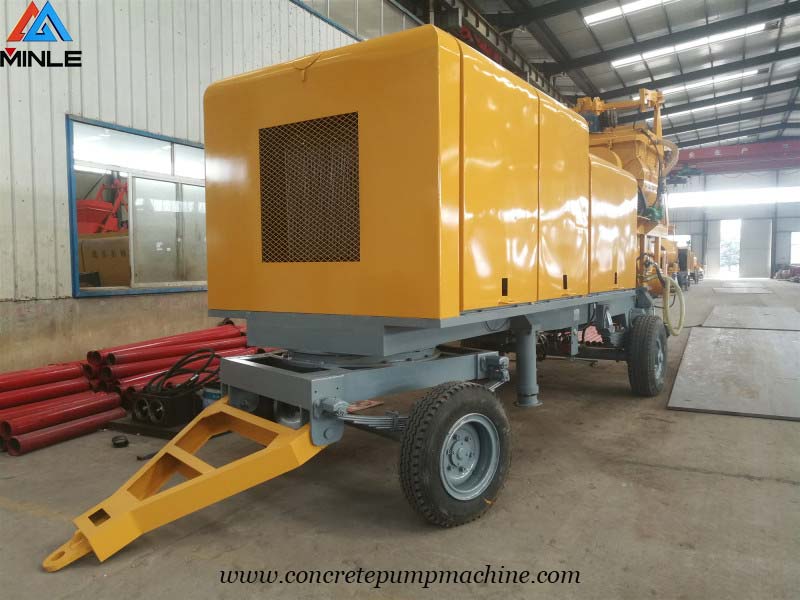 Mobile Concrete Mixer with Pump Specifications:
| | | |
| --- | --- | --- |
| Item | Unit | QJHTSB40-13-120R |
| Max Theoretical Concrete Outpu | m³/h | 40 |
| Max Concrete outlet Pressure | MPa | 8/13 |
| Distribution valve | | S Valve |
| Conveying pipe diameter | mm | Φ125 |
| Max conveying distance (Horizontal distance/Vertical height) | m | 400/150 |
| Concrete cylinder diameter/Bore | mm | Φ200/1050 |
| Hopper Capacity | m³ | 0.8 |
| Max.Aggregate size | mm | 30 |
| Diesel engine Power | kW | 121 |
| Generator output | kW | 100 |
| Pump motor power | Kw | 45 |
| Pump motor rated speed | r/min | 1480 |
| Fuel tank capacity | L | 300 |
| Dimension | mm | 6608x2290x2870 |
| Weight (with oil) | kg | 9980 |
Now, the mobile concrete mixer with pump is delivering to Douala, then will be transshipped to Ghana.
About MINLE Machinery
MINLE Machinery had provided many types of effective and high quality concrete pump machine to over 36 countries. We are designing and manufacturing such concrete pump machines as concrete pump trailer, concrete mixer pump, truck mounted line pump, concrete mixer pump truck, concrete boom pump truck, wet shotcrete machine, etc. we are also providing professional design and fabrication service. OEM and ODM are also available.
If you have any questions or inquiries,  please fill and submit the following form, we will reply as soon as possible.