Mining concrete pump, as the name meaning, is the special concrete pump used for mining industry. Mining concrete pump is the kind of concrete pump to convey concrete to access some narrow space such as mines, culverts, tunnels, underground tunnels flexibly. The basic configuration of mining concrete pump is designed to adapt to various mines, small size, simple structure, easy operation. Mining concrete pump machine has the characteristics of high efficiency, longer service life, compact structure and good quality. Mining concrete pump is usually used in the mine with rail wheel, and we design the gauge according to customer's requirements.
Last year, One client from Vietnam contacted us and said that they wanted to purchase four sets small mining concrete pumps. Their requirements were as following.
Requested the normal specification of ElectricConcrete trailer pump  HBTS20
Requested two typewheels for mining concrete pump
Four Steel tires –it could be used in the road
Four Rail wheels–it could be used on the track (they sent us the drawing for confirming the rail wheel gauge)
Requested the bigger hopper 1 m3 ( 0.3m3 before)
Requested the filling height 1.5m (1.1m before)
Requested delivery in 10 days
Requested 50mφ125 pipes for one set mining concrete pump
When our engineer designing the machine, they found that four steel tires were not feasible, because they could not turn the corner. We explained this to the client and suggested them to amend four steel tires to two steel tires. The client adopted our suggestion gladly. After receiving their agreement, we got the technical parameters and started the production.During the production, we always sent the photos to client to keep them noted the production progress .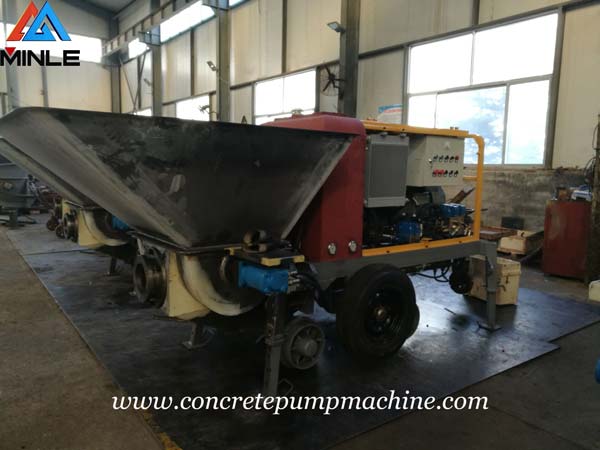 Mining Concrete Pump Specifications
| | | |
| --- | --- | --- |
| Item |     Unit | HBTS20-8-30 |
| Max. Theoretical Concrete Output | m³/h | 20 |
| Max. Concrete Pumping Pressure | Mpa | 8 |
| Distribution valve | | S Valve |
| Conveying tube inner Dim | mm | Φ125 |
| Max. Theoretical Conveying Distance (Horizontal Distance/Perpendicular Height) | m | 400/130 |
| Concrete Cylinder Diameter | mm | Φ140×750 |
| Hopper Capacity/ Filling Height | m³/mm | 1/1500 |
| Maximum aggregate size | mm | 30 |
| Concrete slump range | mm | 120-230 |
| Main motor powder | kw | 30 |
| Rated speed | r/min | 1480 |
| Voltage |  v | 380/50 |
| Fuel tank capacity | L | 150 |
| Cleaning mode | | High pressure washing |
| Dimension | mm | 4100×1400×1450 |
| Total Weight (including oil) | kg | 2200 |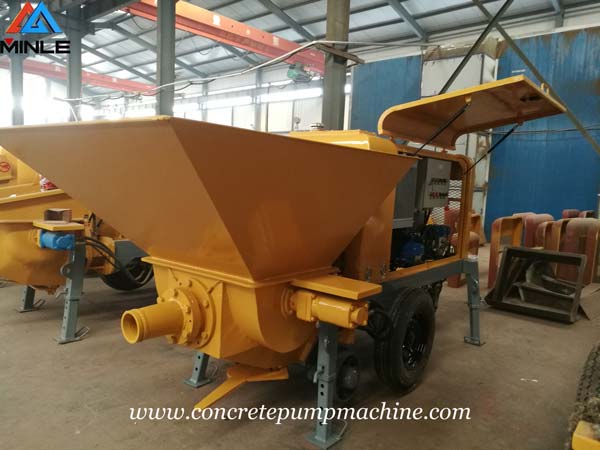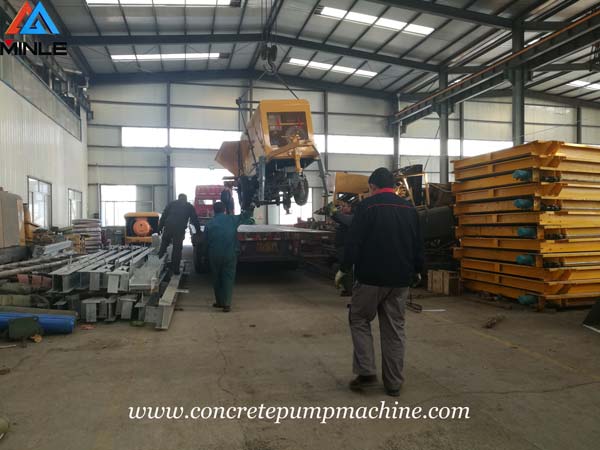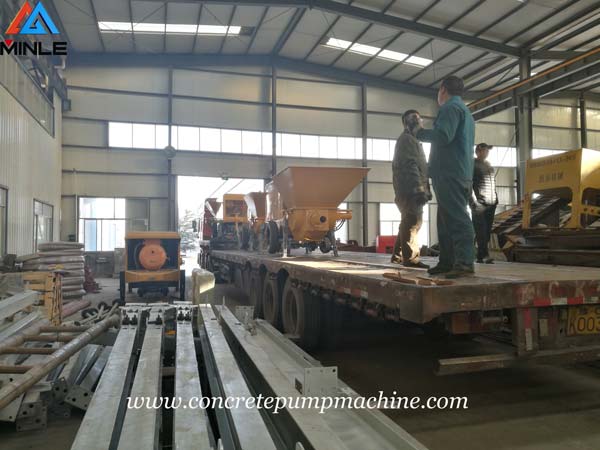 Finally we finished the production and arranged delivery within 10 days required by the customer.
Till now, our Vietnam customer has used concrete pump machine for one year. For our last chat on skype, he said that they were very satisfied with our mining concrete pump machines as four sets mining concrete pump were always worked well even though in some very difficult projects. And they were looking forward to cooperate with us next time.
About MINLE Machinery
MINLE Machinery had provided many types of effective and high quality concrete pump machine to over 36 countries. We are designing and manufacturing such concrete pump machines as concrete pump trailer, concrete mixer pump, truck mounted line pump, concrete mixer pump truck, concrete boom pump truck, wet shotcrete machine, etc. we are also providing professional design and fabrication service. OEM and ODM are also available.
If you have any questions or inquiries,  please fill and submit the following form, we will reply as soon as possible.