Mini shotcrete pump is powerful concrete pump machine which can enable continuous flow of concrete with minimum rebound. The mini shotcrete pump can cover maximum area in shortest possible time thereby increase the overall productivity of project. Mini shotcrete pump is often used to spay out the finished concrete mixed with accelerator from its nozzle to the construction surface. The nozzle is installed at the outlet of the pipe and the air is compressed and the concrete is ejected. MINLE mini shotcrete pump is engineered with high quality wearing parts, variable displacement plunger pump, novel developed cam track and rolling body to obtain higher reliability and high concrete spaying efficiency and uniformity. Our wet shotcreting machine features simple structure, reliable working performance, high efficiency, decreased dust, small shape, light weight, low concrete consumption, reduced rebound resilience, saving material. It is extensively used for concrete spraying, filling, grouting, pumping in construction projects in mine, culvert, construct foundation pit support, channel slope protection, etc.
Our customer from Spain was very interested in this kind of product, they said they were famous construction company in SPAIN, and the major they deal with was spraying the concrete to the tunnel, spray are major work, but also can do the concrete pumping. We ask them the aggregated size for spray and pumping concrete, they told spray was 10mm, pumping was 20mm, and needed the power source was diesel engine power, the brand must be DEUTZ, main oil pump should be REXROTH. According to customer special requirements, we produced one model diesel engine shotcrete pump for customer.
Last night we got whatsapp message from our customer who named Urbes, from the company Urbanizaciones Escribano, S.L in SPAIN. We talked nearly about the 20 minutes, our SPAIN customer said he would place the same order about mini shotcrete pump after new year holiday. He said he got the new project about the tunnel building, currently he was not sure how many he would ordered, but the shotcrete pump he brought from us was very good, he invited me to visit his construction site and recommended more suitable and useful construction machine for him. We accepted his invitation and wish him happy new year.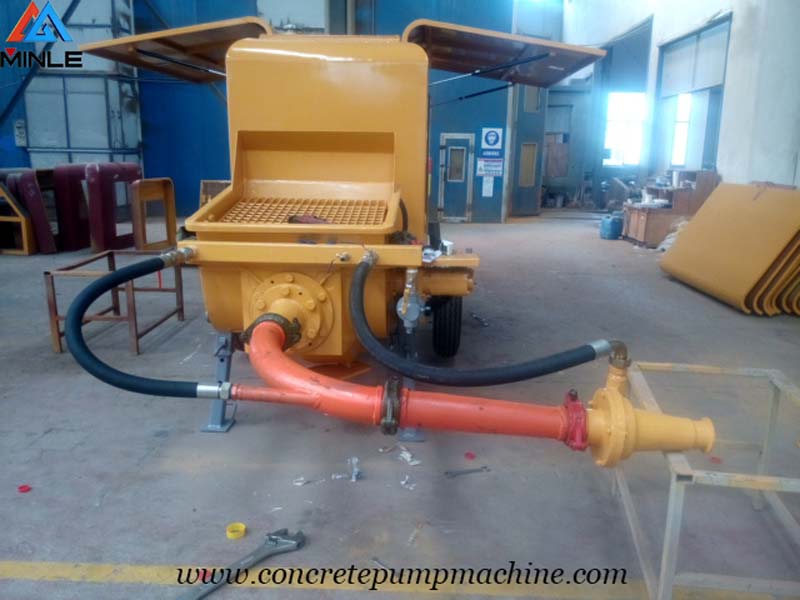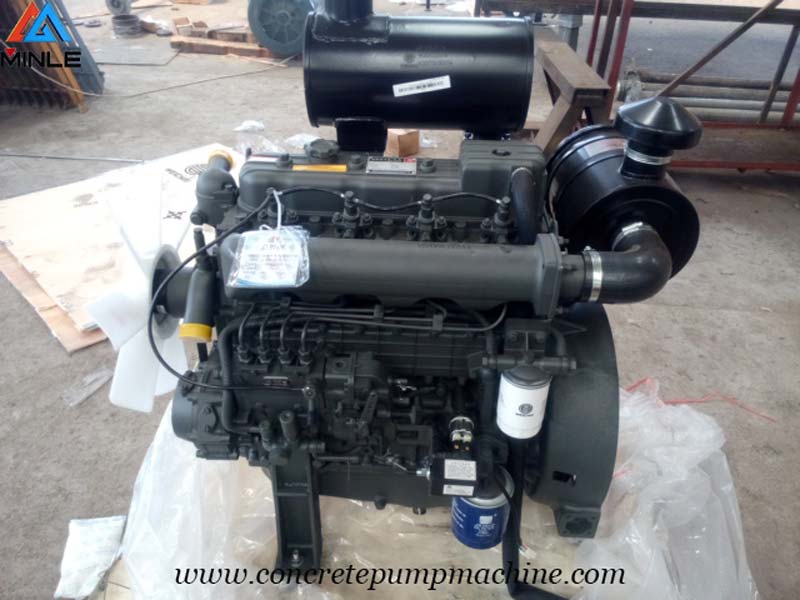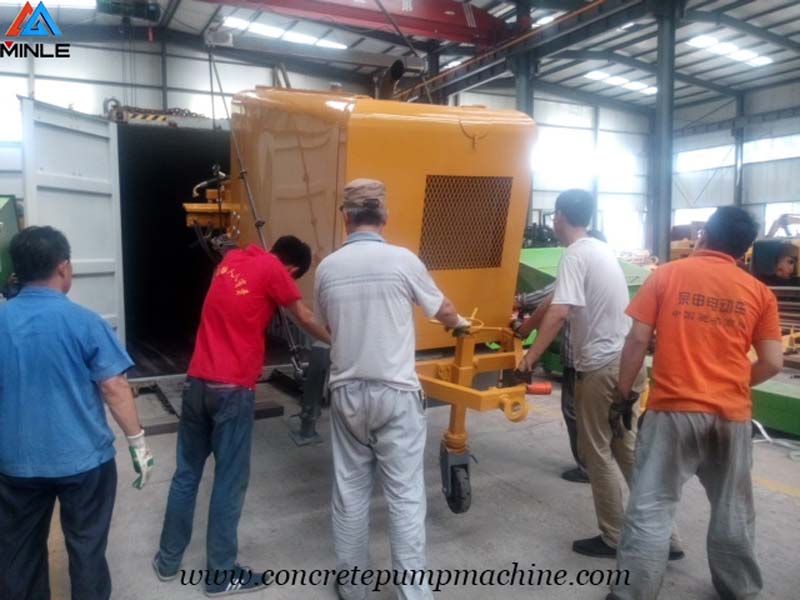 Mini Shotcrete Pump Specifications:
| | | | |
| --- | --- | --- | --- |
| No | Item | Unit | Specifications |
| 1 | Max. Concrete Output Capacity |  m³/h | 3~7 |
| 2 | Max. System Pressure | MPa | 15 |
| 3 | Working wind Pressure |  MPa | ≥0.4 |
| 4 | Max. Aggregate Size |  mm | ≤15 |
| 5 | Power source | | Deutz diesel engine |
| 6 | Power Supply | Kw | 50 |
| 7 | Concrete slump | mm | 120~180 |
| 8 | Hopper Capacity |  L | 300 |
| 9 | Max. Concrete Conveying Height |  mm | 1100 |
| 11 |  Concrete slump |  mm | 100~200 |
| 19 | Oil Tank Capacity | L | 145 |
| 20 | Rebound degree | | ≤10% |
| 25 | Overall Dimension (LxWxH) | mm | 3675x1435x1465 |
| 26 |  Total Weight | Kg | 2100 |
About MINLE Machinery
MINLE Machinery had provided many types of effective and high quality concrete pump machine to over 36 countries. We are designing and manufacturing such concrete pump machines as concrete pump trailer, concrete mixer pump, truck mounted line pump, concrete mixer pump truck, concrete boom pump truck, wet shotcrete machine, etc. we are also providing professional design and fabrication service. OEM and ODM are also available.
If you have any questions or inquiries,  please fill and submit the following form, we will reply as soon as possible.