Electric concrete pump is the widely used electric construction equipment to transfer concrete by pumping method, also called electric concrete pump trailer, trailer mounted electric concrete pump. The electric concrete pump can easily cope with various working environments and is playing an active role in railway and highway tunnels, water conservancy and hydropower, mine operations, geological foundations, and new rural areas, townships and other constructions.
MINLE Electric Concrete Pump Advantages
1. Pumping system
High absorbency
— Newly designed arc-shaped hopper and mixing blade design, no mixing dead angle, no accumulation of material, smooth feeding, inclined wide blade can adapt to different formula concrete suction.
–Adopting the design of the inclined gate valve, the concrete inhalation has an innate advantage, and the S-pipe valve increases the suction rate by more than 25%.
High-life consumables
— Through the application of new materials and new processes, the service life of consumables is significantly improved.
— The new type of rubber conveying piston is 2 to 3 times longer than the life of ordinary polyurethane pistons.
2. Power system — Domestic well-known brand of electric motors.
3. Hydraulic system  and electronic control system
–Hydraulic system
Advanced and reliable hydraulic system
–Adopt advanced sequential hydraulic system with high reliability. The pumping oil circuit adopts serial sequential delay control to fully eliminate the pressure shock during the commutation process, so that the main oil circuit and the spool circuit work smoothly and reliably.
Effective oil temperature control
–The use of a separate bypass cooling filter system greatly reduces the heat generated by the hydraulic system.
Fully automatic centralized lubrication
–Through the centralized lubrication system, the equipment is automatically lubricated to ensure the lubrication of the components and prolong the service life of the moving parts and sealing components.
Intelligent programmable controller (PLC)
–Control the hydraulic system commutation with a programmable controller (PLC).
Electronically controlled commutation
–Transport and reversing adopts electronic control technology, which is simple and reliable. The electric sensor makes the pumping change sensitive and timely, and the failure rate is low.
Unlimited (line) possible
–Original wireless remote control, the concrete tow pump also has its own wireless remote control, the operation is more free and convenient, and the remote control range can reach 100m.
Three months ago, one of our Russian Customer contacted us for small models of electric concrete pump, he needed these electric concrete pumps for a small project. Firstly, our Russian Customer requested three sets of electric concrete pump, 10m3/h, 20m3/h and 30m3/h. After we talked with him for one month, we finally got the reason why the customer used three electric concrete pumps for a small project. He planed to use 10m3/h electric concrete pump for shear wall, 20m3/h electric concrete pump for roof, 30m3/h electric concrete pump for cushion. I reported to our boss about this issue, he suggested our Russian customer to buy one set of electric concrete pump with 30m3/h, and We added an adjustable device to this electric concrete pump so that our customer could adjust the output of the concrete pump according to actual needs. Our customer was very glad for our suggestion, and thanks for our sincerity.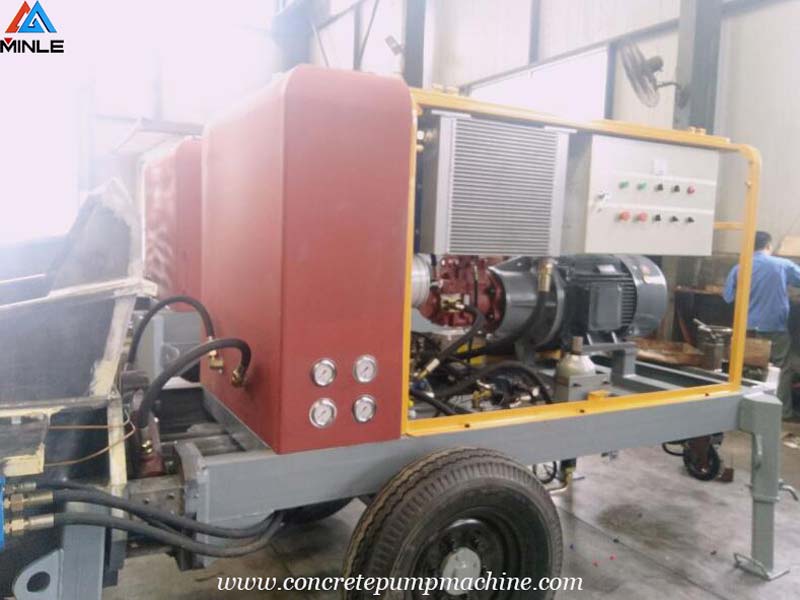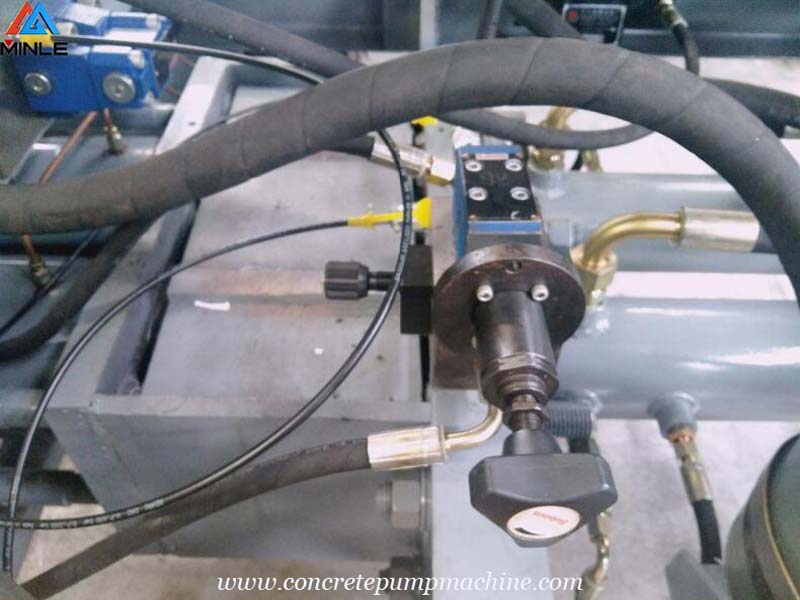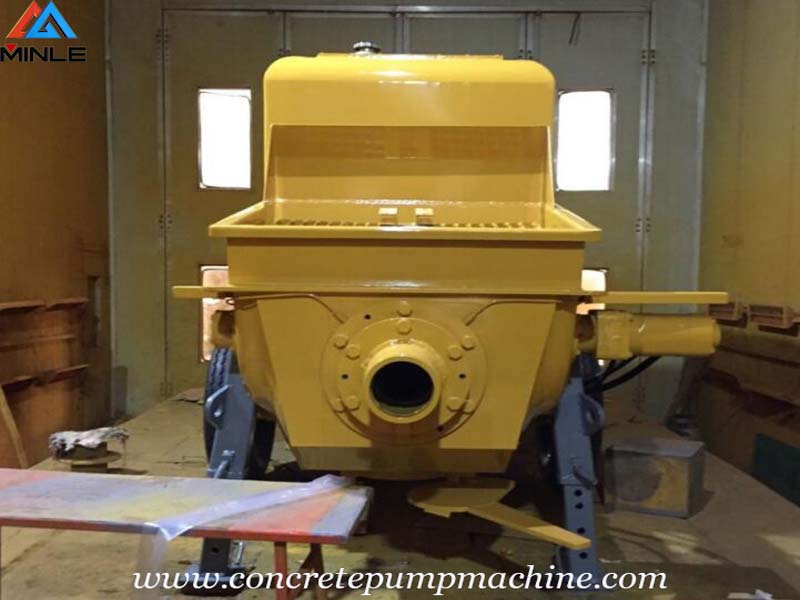 Electric Concrete Pump Specifications:
| | |
| --- | --- |
| Item | HBTS30—10—45 |
| Max Theoretical Concrete Output (Low/High pressure)   (m³/h) | 30 |
| Max Concrete outlet Pressure (Low/High pressure)  (Mpa) | 10 |
| Concrete slump  (mm) |                                      120—230 |
| Aggregate Size  (mm) |  gravel≤30 |
| Powder  (KW) | Electric motor 45 |
| Speed  (r/min) | 1480 |
| Conveying Cylinder Diameter  (mm) | Ø 100/1600 |
| Concrete Cylinder Diameter  (mm) | Ø 180/1600 |
| Fuel Tank Capacity  (L) | 400 |
| Hopper Capacity  (m³) | 0.52 |
| Filling Height  (mm) | 1400 |
| Maximum Theoretical Conveying Distance (vertical Height/Horizontal Distance)  (m) | 150/850 |
| Pipe Cleaning Mode | Washing |
| Overall Dimension  (mm) | 5000×2000×2200 |
| Total Weight  (kg) | 4300 |
We are committed to helping our customers find the best solutions to achieve mutual benefits.
About MINLE Machinery
MINLE Machinery had provided many types of effective and high quality concrete pump machine to over 36 countries. We are designing and manufacturing such concrete pump machines as concrete pump trailer, concrete mixer pump, truck mounted line pump, concrete mixer pump truck, concrete boom pump truck, wet shotcrete machine, etc. we are also providing professional design and fabrication service. OEM and ODM are also available.
If you have any questions or inquiries,  please fill and submit the following form, we will reply as soon as possible.