Diesel shotcrete pump is the kind of wet shotcrete pump driven by diesel engine for flexible operation far away from power supply.  The mixes diesel shotcrete pump can mix the cement, water and aggregate in a designed proportion driven by diesel engine, press it to the nozzle with a wet sprayer, and then add a quick-setting agent to the nozzle and converges with the wind. Diesel shotcrete pump can be used for wet spraying and pumping.
The advantages of diesel shotcrete pump
The sealing structure is good, which reduces the degree of dust pollution and small dust.

The amount of rebound is small, saving materials.

Since the concrete has been mixed well before spraying, the mixing ratio of the concrete is ensured, thereby ensuring the quality of the concrete.
We received an inquiry for 40 cubic meter per hour diesel concrete pump trailer from our Colombia customer in October, 2018. He had bought one concrete pump from us in 2015. Now there was new client asked for this diesel concrete pump. His requirements were as following,
Cummins diesel engine
Germany Rexroth hydraulic pump
Concrete capacity 40m3/h
It can also used for wet shotcrete
Then we discussed with our engineer. Concrete pump and wet shotcrete used together, it called shotcrete pump. According to customer's requirements, we recommended our diesel shotcrete pump. When used it as concrete pump, the concrete capacity could reach 40m3/h, and when used as wet shotcrete machine, the capacity capacity could reach 7-8m3/h. Our engineer told that for Germany Rexroth hydraulic pump, it could not adjust displacement and they advised to changed Rexroth hydraulic pump to Kawasaki hydraulic pump. The price of Kawasaki hydraulic pump price was a little lower than Rexroth hydraulic pump. We forwarded all the information with all spare parts and delivery pipe to our Colombia customer. On December 2018, He gave us the order and we arranged delivery diesel shotcrete pump on January 2019.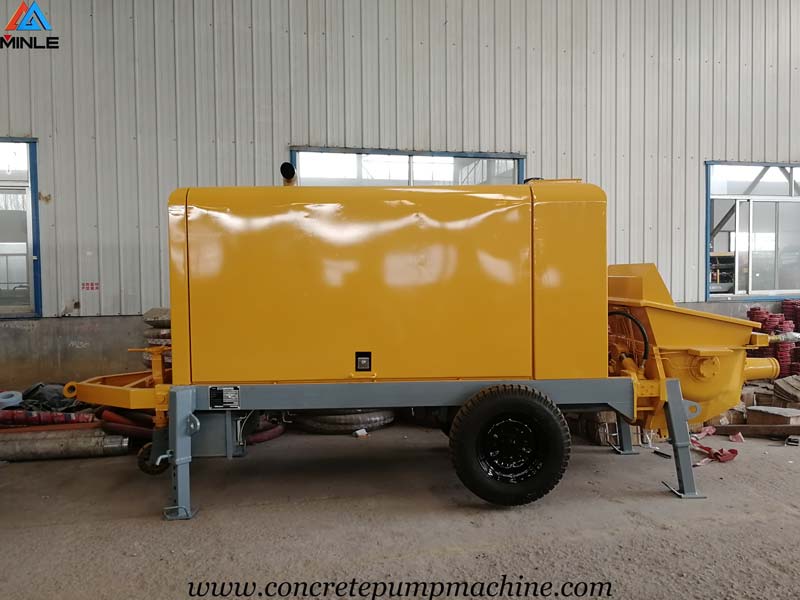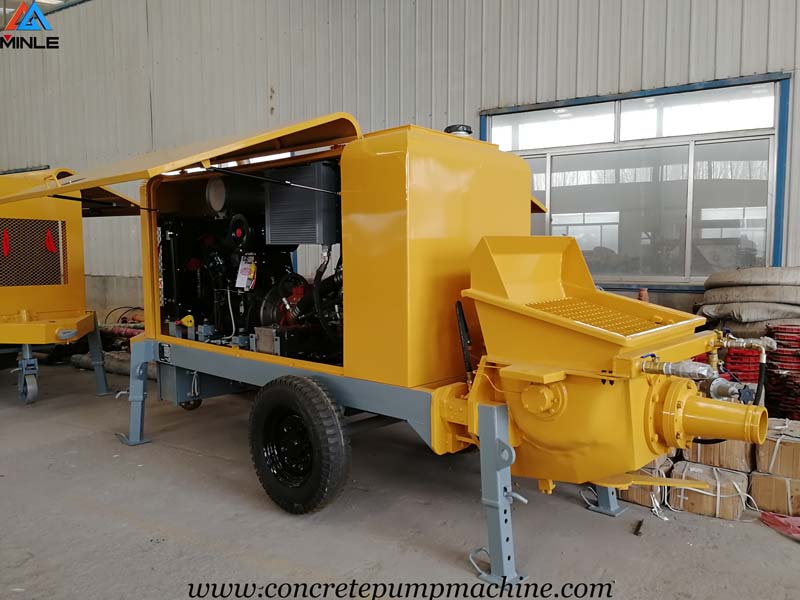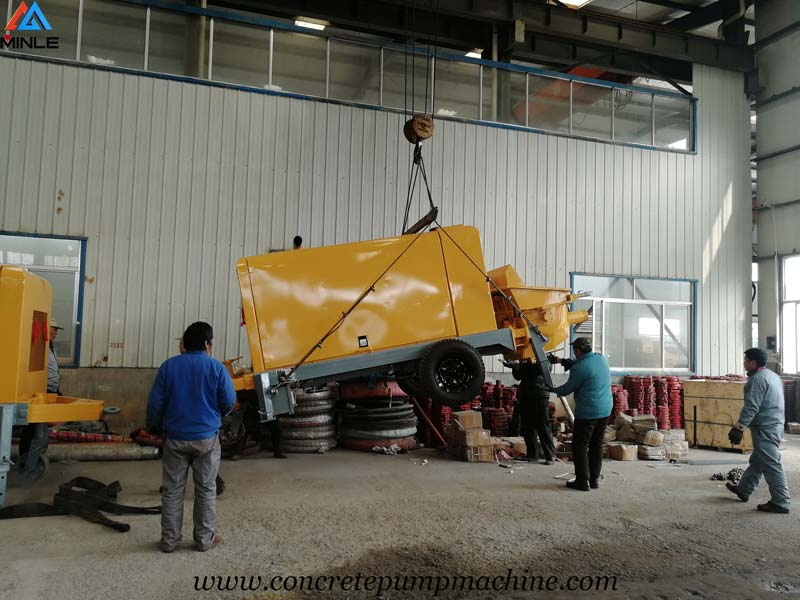 Diesel Shotcrete Pump Specifications:
| | |
| --- | --- |
| Item | HBTS40-10-74R |
| Max Theoretical Concrete Output   (m³/h) | 40 |
| Max Concrete outlet Pressure   (Mpa) | 10 |
| Concrete slump  (mm) | 120-230 |
| Aggregate Size  (mm) |  gravel≤40 |
| Power  (KW) | Diesel motor 74 |
| Speed  (r/min) | 2200 |
| Conveying Cylinder Diameter  (mm) | ¢100/1000 |
| Concrete Cylinder Diameter  (mm) | ¢160/1000 |
| Hopper Capacity  (m³) | 0.35 |
| Fuel Tank Capacity  (L) | 250 |
| Filling Height  (mm) | 1250 |
| Max  Conveying Distance (vertical Height/Horizontal Distance)  (m) | 70/300 |
| Pipe Cleaning Mode | Washing |
| Overall Dimension  (mm) | 5000×2100×2200 |
| Total Weight  (kg) | 4000 |
About MINLE Machinery
MINLE Machinery had provided many types of effective and high quality concrete pump machine to over 36 countries. We are designing and manufacturing such concrete pump machines as concrete pump trailer, concrete mixer pump, truck mounted line pump, concrete mixer pump truck, concrete boom pump truck, wet shotcrete machine, etc. we are also providing professional design and fabrication service. OEM and ODM are also available.
If you have any questions or inquiries,  please fill and submit the following form, we will reply as soon as possible.