Diesel concrete mixer with pump is the kind of concrete mixer pump driven by diesel engine. This diesel concrete mixer with pump is widely used for continuously concrete mixing and conveying through high hydraulic pressure along the pipeline in such applications as housing building, bridge or tunnel construction. MINLE brand diesel concrete mixer with pump has the characteristics of compact structure, stable concrete pumping, energy saving, high efficiency, flexible movement and easy operation.
We received a business call from Zhejiang on May 6th, 2018. This client asked us a new type concret pump machine – diesel concrete mixer with pump which had double functions. This concrete mixer with pump machine could not only mix the concrete but also pump the concrete. His Philippines clients liked this new design concrete mixer pump very much, he hopped that our factory can support him strongly, as he had many foreign clients and could establish long term business relationship with us.
Diesel concrete mixer with pump was our main products, we have been designing and manufacturing concrete pump machine for over 20 years. In recent years, we have improved this concrete mixer pump model. The new design took up less space and the workers can operate itconveniently. Correspondingly, saved customers' construction costs.
We replied our client that we are eth professional manufacture of diesel concrete mixer with pump, we had exported diesel concrete mixer pump to many countries such as Kenya, Myanmar, Vietnam, Maldives and so on, the main parts is from famous brand such as Main oil pump, KOREA KAWASAKI; Hydraulic hose, Manuli Italy; Hydraulic valve, Bolseen; PLC control system, MITSUBISHI; these parts were very popular all over the world. He was very happy at that time, Because my explanation met his clients requirements largely.
We told him one set Diesel concrete mixer with pump should be loaded into one 40ft container, the diesel concrete mixer pump came up with 100m delivery pipes, the delivery time was 25 days after receipt the deposit. Recently, because of full of production in our factory, we have to make the production list and sent to factory manager, he could arrange the production on time,we  hope he could make payment as soon as possible.
After 5 days, our client replied us, he said his foreign client liked our diesel concrete mixer pump very much, but he hoped that he could get good price for our long term business relationship, he could recommend our products to his friends for further sales to overseas markets. After receipt his message I thought that he had great purchase intention, I applied to our boss for the good price, one good discount offered clients would have long term business relationship. After discussion with boss, he considered that it was our new design improved products, we could give him good discount.
After one month, the client arranged the deposit and sent me bank slip for confirmation, our account confirmed their payment within 3 days.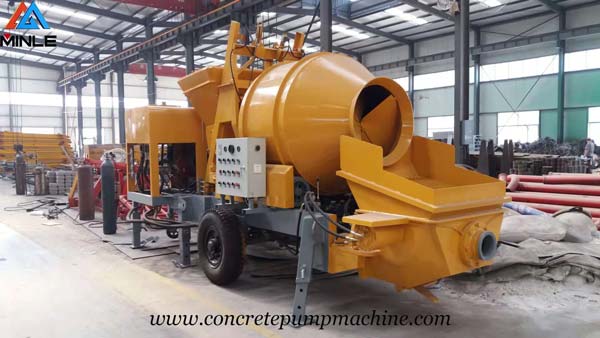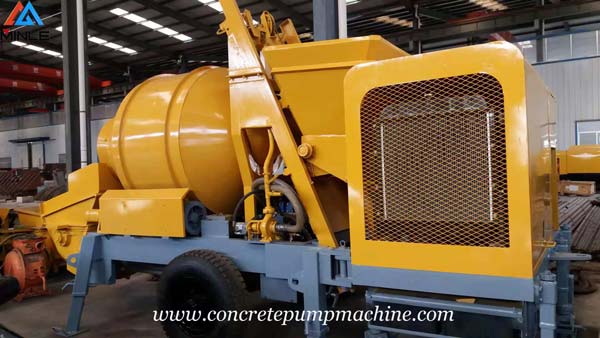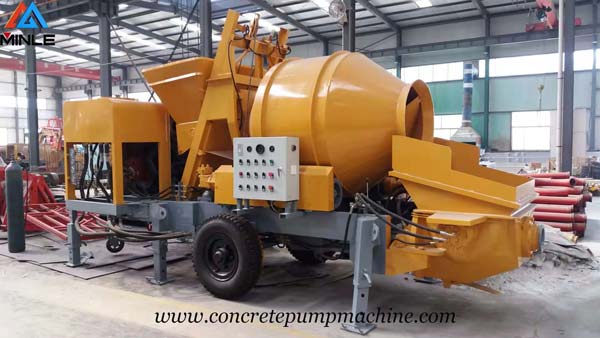 Diesel Concrete Mixer with Pump Specifications
Model – HBTS30-10-85R

Max Theoretical Concrete Output -30

 

m³/h

Max Concrete outlet Pressure -10

MPa

Concrete slump -120~230mm

Aggregate Size – 30mm

Diesel engine power –

 85

 Kw

Concrete cylinder diameter – 180/1000mm

V

ertical height m

ax conveying distance – 80m

Horizontal distance max conveying distance -4

00m

Pipe Cleaning Mode – Water washing

Total Weight – 5000 Kg

Overall size: 5800mmx2150mmx2600mm
About MINLE Machinery
MINLE Machinery had provided many types of effective and high quality concrete pump machine to over 36 countries. We are designing and manufacturing such concrete pump machines as concrete pump trailer, concrete mixer pump, truck mounted line pump, concrete mixer pump truck, concrete boom pump truck, wet shotcrete machine, etc. we are also providing professional design and fabrication service. OEM and ODM are also available.
If you have any questions or inquiries,  please fill and submit the following form, we will reply as soon as possible.